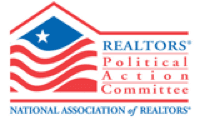 Q: What is RPAC?
A: As it applies to our Association, The REALTORS® Political Action Committee (RPAC) North Carolina branch is the only voice specifically focused on protecting North Carolina's real estate industry, the NC REALTORS® Government Affairs team are the leading advocates at the local, state, and national levels. Through legislative and regulatory engagement, political involvement, political fundraising through NC REALTORS® PAC, and consumer outreach through the NC Homeowners Alliance, the REALTOR® voice is there to protect YOUR business and YOUR industry.
Q: What are some issues RPAC covers?
A: Federal Issues, State issues, Local Government affairs, regualtory affairs, economic development, calls for action, voting, and property rights. RPAC has contributed to the following issues: opposition to transfer taxes, impact fees and the state-wide deed stamp tax. Protecting Private Property rights. Promoting housing affordability. Protecting homebuyers from predatory lending and mortgage fraud. Fostering a healthy, vibrant real estate market and opposing over-zealous regulations, and much more!
Q: Why is it important to support RPAC?
A: By participating in Governmental Affairs and RPAC, your voice is heard collectivley with hundreds of thousands of your colleagues across the country. If you don't get involved, you may face the prospect of bad legislationor a new set of crippling regulations.
Q: How do I get involved with RPAC?
A: You can get involved by joining more than 5 hundred thousand of your colleagues nationwide, who agree that RPAC is the best investment you can make to influence your profession's long-term growth and the stability of the real estate industry. Visit www.ncrealtors.org/action-center or https://realtorparty.realtor/rpac
NC REALTORS® PAC 100 Years of Legislative Victories
"What is NC REALTORS® PAC?"
New Member NC REALTORS® PAC Video