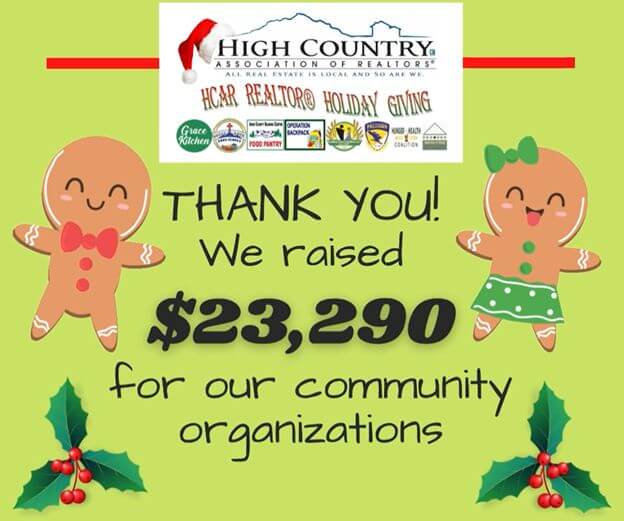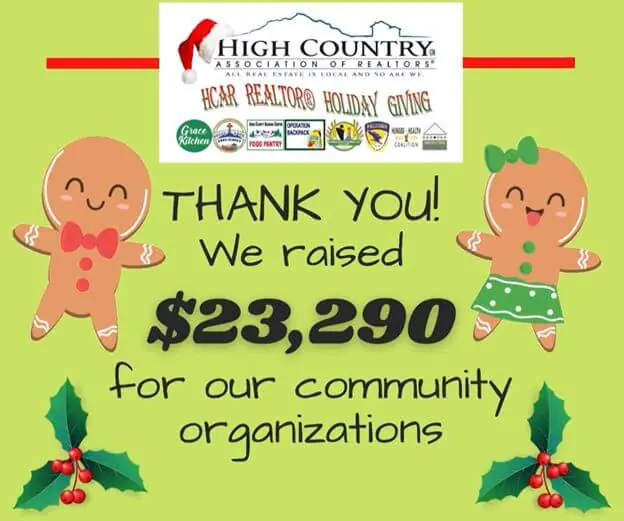 The High Country Association of Realtors®
  set up a Go Fund Me this holiday to raise money to give back to the communities that have supported Realtors® throughout our profession. Donations helped local families in Alleghany, Ashe, Avery and Watauga counties that are facing financial struggles and hardships. Funds collected totaled over $23,000 and were equally distributed to the following non-profit organizations; Grace Kitchen, Solid Rock Food Closet, The Ashe Sharing Center, Backpacks for Children, Feeding Avery Families, Williams Academy, Hunger and Health Coalition, and the Hospitality House.
About the Organizations:
Alleghany:
Grace Kitchen
 started in May of 2017 as a means of building community through meals. They are run exclusively by volunteers, gratefully receive donations but have never solicited funding and have gratefully never missed a meal. Since March of 2020 their volunteer staff had to be reduced to a consistent group for safety reasons. They regularly serve 140-180 meals a week and just prepared a Thanksgiving meal to 365 all drive up, pick up. The staff is organized, serving an entrée, vegetable, fruit and bread with a short wait time to keep food warm and still take time to connect with the visitors. The staff is as diverse as the visitors, dedicated & faithful to bringing a sense of community through meals to Alleghany County.
Solid Rock Food Closet
 began in June of 2004, they continued the work of the Crisis Food Closet which began at the First Baptist Church of Sparta. During that year, a total of 2,915 clients were served. The total grew with each passing month. For calendar year 2019, we provided 194,000 meals to approximately 10,000 people. SRFC works closely with the Alleghany County Health department, the School systems, DSS and the Extension Office to bring health and food to those in need. In addition to providing meals the SRFC provides food & education through The Deer Hunter Program, Special dietary needs for diabetics an babies, children's back pack program, summer feeding & Monthly tasting, an education program to teach health cooking habits.
Ashe:
The Ashe Sharing Center
 began in 1983 and their mission has always been to help eliminate hunger in our communities. They take in food and monetary donations so that food can be redistributed to those in need throughout the county.
Back pack for Children
 is a program that has been operating within the county in connection with the schools. Children who may have limited food resources at home will be supplied with a backpack full of food that they can prepare themselves at home.
Avery:
Feeding Avery Families
 is a non-profit Christian organization in Avery County dedicated to eliminating hunger by any means possible including monetary donations, volunteerism, or food donations. They serve the beautiful Blue Ridge Mountain towns of Newland, Banner Elk, Beech Mountain, Sugar Mountain, Crossnore and Elk Park – providing enough food for 460,000 meals in 2019! Distribution is every Friday and they also have food pantries that are accessible 24 hours a day, seven days a week, with 6 school locations throughout the county. Feeding Avery Families has a backpack program for students that is distributed twice a week. Most of the work is done by dedicated, hard-working volunteers – with about 150 in the spring, summer and fall months and about 75 during the winter when many seasonal residents are away.
Williams Academy
 is a charter school located on the campus of Crossnore School Home for Children, serving children that are in the custody of social services due to abuse and abandonment. Their mission is to offer a stable, emotionally supportive, educational environment for children with a goal of empowering each child to achieve his or her real academic and social potential. The Williams Academy/Crossnore School team is committed to providing every student with the tools necessary to succeed in school and in life. They specialize in propelling students to excel academically through engaging learning opportunities.
Watauga:
Hunger and Health Coalition
 began 1982, as a labor of love attempting to serve our local neighbors in need. The Hunger and Health Coalition has grown from a closet into a county-owned facility, formerly the Watauga County Health Department. The Hunger and Health Coalition continues to address the needs of vulnerable populations in our area, providing emergency assistance while striving for long-term solutions to the issues facing those we serve.
Hospitality House
 enables the transition from crisis to stability, from poverty to sustainability, and from homelessness to housing. At Hospitality House they offer much more than bed and bread. They are a place where self-worth is reclaimed, passion is rediscovered, and souls are redeemed. The mission of the Hospitality House is to rebuild lives and strengthen the community by providing a safe, nurturing, healthy environment in which individuals and families experiencing homelessness and poverty-related crises are equipped to become self-sufficient and productive.
Your generosity goes a long way towards strengthening these foundations.